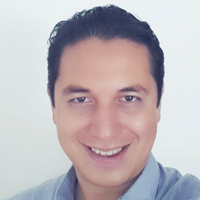 I was born in Puebla, Mexico. I've been developing software for over ten years, mostly in Java. Here are a few things about me:
I was born in 1981. Sometimes I feel old.
The first programming language I learned was Visual Basic 5.0. We're talking about 1997. Next was C. Then Java. Then PHP. Then C#. And then Objective-C.
I have two wonderful kids. Santiago, born in 2010, and Diego, born in 2014.
I'm old school. I prefer to talk to people in person. I'm not really into social media. I'm only a little active in Twitter and Github. I have Quora and Goodread accounts but I don't use them very much.
I have more than six IT certifications. Mostly about Java. The most difficult was PMI's PMP.
I don't like to drive. I hate being stuck in traffic. I prefer to walk or public transportation (like subway).
I have a lot of favorites movies. Two that come to my mind right now are Contact and Scent of a Woman.
More to come...
You can contact me via Twitter or email.
Credits
This site is based on Jekyll. The design is based on Rich Grundy's personal site.
Social media icons by Tina Mailhot-Roberge at vervex.ca.